When a wood crate isn't quite right but you're not ready to dive into a road case, a plastic crate is a great option.
A plastic crate will last for decades and can be as lightweight or heavy-duty as you like. We use Recycled plastic 4X4 for the feet, solid, ½" HDPE for the base and lightweight Polypropylene panels for the walls and lid. The interior can be filled with custom cut foam or designed in any configuration you can imagine. Plastic crates are designed in 3D CAD software and cut directly from the 3D CAD file, creating a highly accurate and true-to-design product that will fit your parts the first time.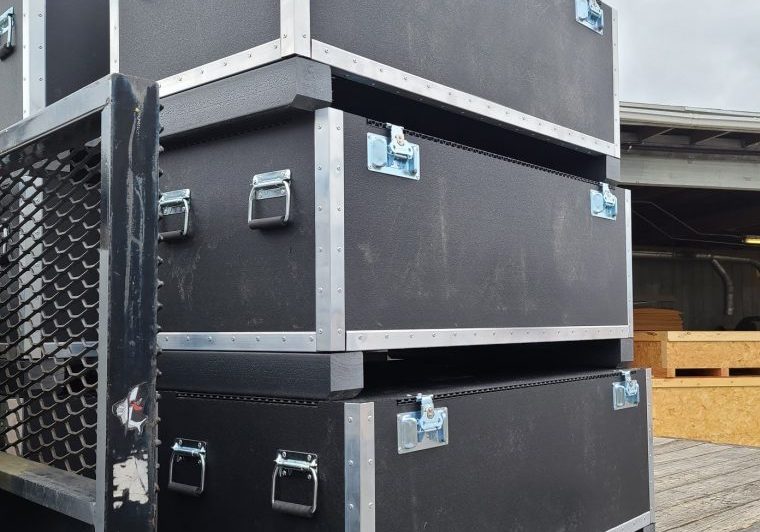 Having been in the industry for over 50 years, we know what our customers expect from a crating company. Our team of experts are here to offer you the best solution for your needs.
RESEARCHING WHAT'S RIGHT FOR YOU: If you are unsure of the crate you need, we are happy to go the extra mile and help determine what might be the best option for your budget and needs. Even when bidding freight or shipping services, we like to shop around to make sure you are getting the best value.
When challenged with something new which we haven't seen or worked with before, we will research the best way to secure and ship your item. Making sure its done right the first time.
We design in 3D to find issues before we build, another level of "measure twice, cut once"
CUSTOMER NEEDS: We are here to help answer any questions you might have. We understand that a lot of orders have special details and circumstances that a one size fits all box just doesn't work for, in these cases we ask that you please reach out to discuss your specific needs. Our office staff is extremely knowledgeable, friendly, and helpful. We are here to help you.
OUR SOLUTION: We want to be a one-stop shop for our customers and make shipping and packing as simple as possible. Excellent service should never break the bank, and we want to make sure we take care of all of our customers.
"Custom Crating knew what I wanted in a crate design before I even knew what I wanted. Erik is very knowledgable and professional, and their driver Brad is always friendly and never misses a chance to help out.
My company has used their services many times before, and no matter what size or shape or weight our parts are, these guys come up with a design for storage and shipping purposes with no issues at all. Anything you could think of, they've probably already aced it. We will continue to do business with them."
beanieman54
Plastic Crates Photo Gallery
click image for larger view